In 1991, Gary Snyder, an avid outdoors man, Northwest Fly Fishing Guide and Free-lance Outdoor Writer, founded this company called Blue Ribbon Environmental Products, Incorporated. He decided to take a True Sense of Concern and combine that with the discovery of a revolutionary product and turn them into a Positive Preventive Approach toward saving a way of life that had been in his family for generations.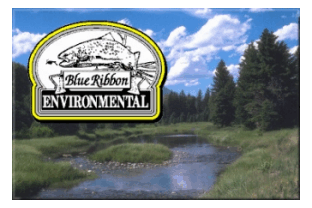 What were those concerns and realizations?
Water is the World's Life Line!
Without clean water, all life as we know it will cease to exist.
There was a time, not so long ago, that most of our Streams, Rivers, Lakes and other waterways were pristine, had healthy Eco-Systems, and were teaming with fish and other life.
Pristine Waterways are so rare today we classify them...
...like the "Blue Ribbon Trout Streams of the West"... the Yellowstone & Madison Rivers in Montana... the Snake River in Wyoming... and the Clearwater & Saint Joe Rivers in Idaho, just to name a few here in the United States.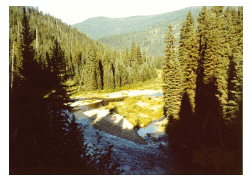 The signs are blatantly obvious shrinking Salmon and Steelhead runs, Whales and Dolphins beaching themselves, Streams, Rivers and Lakes you can no longer drink from. These are just a few of the signs, or cries for help, from the world we live in!
Most of our Water-sheds and Aquifers are sick and dying.
The question you must ask yourself... "Is this the common cold or is this the next epidemic?"
There are two ways to address any medical problem or Epidemic... one is with a Corrective Medical plan, the other is with Preventive Response. The truth is that we must do both! We must view the demise of our Number One resource, "CLEAN WATER", and it's EcoSystem, like a Major Medical Problem.
Mother Nature's kidneys are failing. We need to Identify, Control and Reduce the impurities we inject in to her system. With dedication and the willingness to do our part, we can stop the unnecessary Waste of our Natural Resources.
Money will not buy Clean Water. We must start protecting it now, or soon it will be nothing but a fond memory.
Here are some things we need to look at:
1. Outdated / Clear-Cut Logging Practices, Poor Erosion Control & Sloppy Fuel Use.
2. Wasteful use of our water.
3. Uncontrolled dumping of Waste and Money.
4. Abusive use of our equipment and toys, (by shear numbers)... Off-Road Vehicles, Boats, Planes and Automobiles.
As an avid outdoor enthusiast, Gary knows that as sportsmen and inhabitants of this world, we have dripped, spilled and dumped contaminates for years... without realizing what the cumulative, underlying, long-range effects of our actions would be. It's time to STOP... and start doing our part to clean up and Protect our way of life.
Everyday, articles are written by reactionary writers that think the only way to solve this problem is to close down, have controlled access by the highest bidder, or restrict the total number of persons allowed to use or visit our National Forests, National Parks, Streams, Rivers and Lakes all together.
These people haven't got a clue about the real outdoors... or the Northwest wouldn't be the last Environmental stand in America. We've watched as many Judges enforced these ridiculous view points. What do we do about it?? Little or NOTHING!!
Gary believed that it was time for us, the users of these Outdoors, to get involved. So, he decide to quit talking or thinking about what others could or should do... and do something himself!
By re-educating the outdoor enthusiast, enacting and enforcing new user legislation, supplying people with products that are user-friendly, effective, easily disposed of and reasonably priced... then, and only then, can we all do our part in cleaning and protecting our Natural Resources.
With this thought in mind and a product that answers and address's situations never thought possible, Gary, (B.R.E.'s Environmental Director), and his brother Larry Snyder, (B.R.E.'s Marketing Director), started on a venture that, hopefully will allow us all to Win.
The sheer number of people, yes people, is having the greatest effect on our Environment.
If we are to ever get control over the adverse effects we inflict on this earth of ours, we first must control the population growth. But, these are political problems B.R.E. can do nothing about. So, Gary came up with a Product and a Product Line that just may be what the doctor ordered. It's not new kidneys, however it just may be the needed dialysis for this world we live in.
BRE's concept is simple...
...Identify, Contain, Collect and Properly Dispose of Target Contaminates at EVERY potential point of our impact. For example, if we filtered impurities out of the Columbia River and its tributaries at every discharge tube, (city, mine, mill, etc.), and at every bridge or dam, lined every dock, installed Bilge Matts in every water craft, controlled every on-water fueling station with Containment Booms and had tank set-backs for all water related housing... just how much cleaner would our water be by the time it gets to the ocean?
To accomplish this, Gary would need to find a better product than the ADsorbents, Polypropylene, Cellulose, Cork, Peat, etc., that were being sold everywhere. In essence, he needed a better mouse trap. Those products collected oil by ADhesion, sticking to the outside of the ADsorber. Contaminates could be wiped off and re-contaminate the Environment.
Then Gary found PRO-ZORBTM, the kind of product he had been looking for! This product would allow him to address spills in a manner never before thought possible.
With the acquisition of the exclusive worldwide distribution rights of ProZorb, Blue Ribbon Environmental Products, Incorporated now had the "State of the Art" Capillary ABsorber!
Gary knew that Super ABsorbancy of hydrocarbons on contact, was the secret.
As an example, Gary will often applies transmission fluid to his hands. Then he places his hands into ProZorb loose particulate. As you would see, the ProZorb removes the fluid. What you may not notice, except by very close inspection, is that even the body oils have been Encapsulated.
ProZorb's unique construction enables it to attract and lock-up hazardous liquids with a specific gravity lighter than water.
ProZorb will ABsorb up to 60 times it's own weight in hydrocarbons or chemicals in a hazardous spill.
Each cubic yard of Pro-Zorb can ABsorb approximately 180 gallons, or more than 1,200 pounds of liquid hydrocarbons.
Pro-Zorb, as an ABsorber, is outstanding in the field... six (6) times more effective than clay and three (3) times more effective than it's nearest competitor.
ABsorbency is not it's only advantage. As we all know, DISPOSAL... "cradle to grave", can be a very expensive process!
In a recent cost comparison of "Clay versus Pro-Zorb", to collect a 55-gallon Oil Spill... 850 pounds of Clay was needed to ABsorb .5 times it's weight at a cost of $85.oo... only 7.1 pounds of Pro-Zorb was needed to ABsorb the same amount of oil at $142.oo. Initially, at 10-cents per pound, the Clay would appear to be cheaper.. However, when you factor in the transportation and disposal costs of the oil-soaked Clay, you start to see the costs sky-rocket to around $2,300.oo. Where as transportation, disposal, and the initial cost of the Pro-Zorb is still below $350.oo. By using Pro-Zorb, you will enjoy a savings of almost $2,000.oo! EFFECTIVE? You bet!!!
Pro-Zorb is the flagship ABsorbent in all of B.R.E.'s:
B.R.E. also Creates Custom Kits for Haz-Mat Maintenance and Prevention
(also known as our "Industrial-Commercial Kits") such as:
Emergency Vehicles Kits - for first responders, like Ambulances, Rescue Van, Tow Trucks, Law Enforcement, Security, Fire Departments, Coast Guard Vessels and more...
Agriculture Equipment Kits - for Tractors, Sprayers, Irrigation Machinery, Generators, Fueling Tanks, Combines and other Harvesters, Tools, Shops, etc.
Aviation Applications - such as our Contaminated Aviation Test-Fuel Disposal Units and Spill Response Kits.
also Heavy Equipment, Industrial, Commercial, Mass-Transit... you name it!
Whatever your needs, B.R.E. can custom create it for you.
Clean Water - and how B.R.E. can best protect it - was a major question. Thus B.R.E. developed the first Marine Recreational kits of their kind. Kits for:
Personal WaterCraft of all kinds...
Sport & PowerBoat Kits...
customized Cruiser & Yacht Kits...
and other custom created Marine Kits.

along with Fueling Bibbs, Fueling Stations, Bilge Matts, Bilge Booms, DockSock Booms, Trolling Motor Skimmer Booms, Fish Screen Booms, Nav-Loc Booms, and more.