Both, our 4x4 "Trail Boss" and regular 4x4 Vehicle Off-Road Transportation Kits contain an assortment of ADsorbent and ABsorbent products, such as:
Non-Spill FUELING BIBBS - ADsorbs leaks, drips and overfilling spills. Also,PRO-ZORBTM filled ABsorbent Padds to collect, cleanup and control accidental spills of target contaminates. All targeted fluids are encapsulated and can be temporarily stored in the provided disposal bag.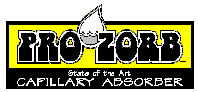 These Off-Road Kits are specially packaged in Heavy Duty Zippered (Reusable) Vinyl Bags to fit compactly in your vehicles.
Along with those sorbent products, each Kit contains specific preventative items for a Pro-Active stance such as... Drip Pan, Matts, Padds, Repair Putty Stick, Hand Cleaner-Degreaser Wipes, Storage-Disposal Bags and ProZorb Loose Particulate for Bio-Remediation of contaminated soil.
We offer a New ENVIRONMENTAL Vision and Concepts based on:
Prevention... not fear!
Solutions... not conflict!
Education... not litigation!
Products... not emotions
...that employ, not destroy, natural and human resources.