---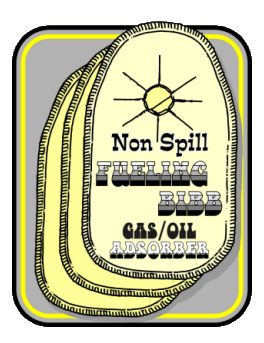 Use them to protect your finishes and our Environment.
The number or types of uses for this product is left to your good judgment and imagination!
...around the home or recreation area in petroleum powered vehicles, tools or equipment... automobiles, mowers, weedcutters, chainsaws, all-terrain vehicles, boats, generators, etc.
...perfect for all forms of industry... manufacturing, agriculture, logging, transportation, you name it!
We use the best ADsorbent materials for our patent pending Non-Spill FUELING BIBBS (3-pack, Stock #: BRE-LF-FK-BIB).
---
ABsorbent or ADsorbent?
There is a difference... each with its special attributes.

Sorbents are defined as any material that will recover a fluid by either absorption or adsorption.

In ADSORPTION, target fluid adheres primarily to the surface of the material but does not readily penetrate the fibers or particles themselves. For a given amount of adsorbent, as the size of the fibers or particles is reduced, the total surface area of the material is increased, thereby increasing the probability that the oil or fuel will adhere to the adsorbent's surface.

We use the best ADsorbent materials for our patent pending Non-Spill FUELING BIBBS... and for our other various applications... in some types of sorbent "SOCKS" or "BOOMS"... as Oleophilic and/or Hydrophilic ADsorbent Padds, used as "Wipes" in many of our Spill Response Kits, in the bottom of some Secondary Containment BERM SYSTEMS as Liner Padds, etcetera. We can supply these adsorbent "Padds", in sheets or rolls of several types (i.e.: for Oils, Solvents, Water, Caustics or combinations) and sizes.

In ABSORPTION, hydrocarbons (for example) can penetrate the semi-solid structure of an oleophilic absorbent's fibers or particles, which usually swell in size to accommodate fuels, coolants, lubricants, etc. Since absorption works on the principle of capillary action, material that is highly porous will absorb the greatest amount of target fluid.

ProZorbTM is our Exclusive, 100% Bio-Degradable, State-of-the-Art, Capillary ABsorber used in our Large, Quilted, Industrial Fueling Bibbs (below) as well as in many other products in our unique product line, such as our ABsorbent Matts and ABsorbent Booms.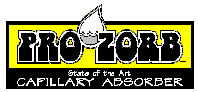 Our ABsorbent particulate - ProZorb State-of-the-Art Capillary ABsorber - is the best. That is why we use ProZorb inside of our Quilted, Large, (14"x 20") Industrial Fueling Bibbs (Stock #: BRE-PZ-LFB-1420) with center access hole for use on the port of Tanks, Tankers, Barges and the like during the filling of Fuels, Lubricants, Pesticides, Fungicides and more... to collect drips, leaks, and overfilling spills.

Both methods and materials of sorption have their useful place and special properties. We use the best of sorbents for any specific application.
---
Your Distributor can assist you in choosing the right material for your needs.
---
Remember...
"If You Spill, Don't Let It Kill !