Both of our Highway Transportation Kits are specially packaged in a heavy, zippered, vinyl bag with handle for convenient storage. Our Kits contain specific ProActive items such as... preventative Non-Spill Fueling Bibbs... superior ProZorbTM filled Matts... ProZorb Loose Particulate for contaminated soil collection or remediation... Drip Pan for larger quantity spills... plus accessories - cleanup pads, repair putty stick, hand degreaser wipes and 4 mil. disposal/storage bags.
---
Stock Number: BRE-PV-HWY-KT
Item Description: Passenger Vehicle (PV) Highway Transportation Kit
---
Stock Number: BRE-RV-HWY-KT
Item Description: Recreational Vehicle (RV) Highway Transportation Kit
---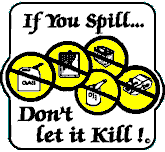 Our Highway Transportation Kit is probably the most advanced Visionary Concept in our product line. This is a new concept for a new horizon - and will have extensive application - as a Preventative and Response System for every Automobile, Truck and Recreational Vehicle using our highways and byways.
Remember; as you drive down the highways of today, seeing obvious remnants of pollution - spills, stains, boil-overs, accidents - line the side of the road... Ask yourself, "Where does it all go?" As it is flushed from the surface of the roads, it drains into the ditch, feeder-streams, aquifers, creeks, rivers or on to the oceans. It does not just disappear! On it's journey, how many bugs, birds, fish or mammals were contaminated or killed?
The major factor impacting your right to visit your National Parks and Forests is the increased number of visitors and the accompanying automotive pollutants of the air and the surrounding aquifer. This impact has been monumental. Hopefully, with conscientious use of our Highway Transportation Kits, we can show that we care and are concerned, thus preventing being locked out of our national treasures.